Digital Dental Scanner (ITero)
Amy Schoening, DDS is pleased to offer a state-of-the-art digital dental scanner which eliminates the need for dental impressions, called iTero.
iTero is an advanced dental technology which can be used for multiple purposes, but mainly with orthodontic treatments. Learn more below, or schedule an appointment online.
What is iTero?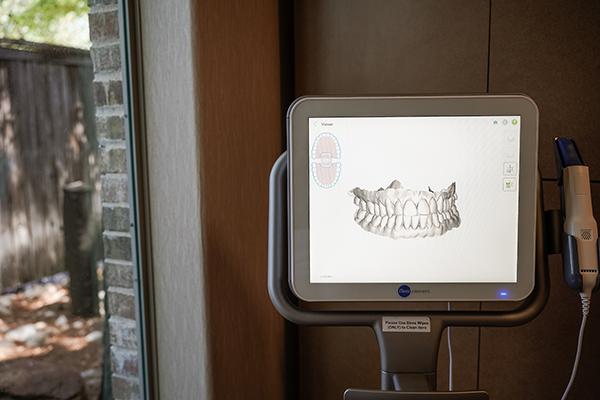 iTero is an intraoral digital dental scanner that can be used by Dr. Schoening to perform accurate orthodontic scans, such as those required for braces or when undergoing Invisalign therapy. Additionally, it can be used to take teeth scans required for producing custom-fitted restorative dental crowns.
How does the digital dental scanner work?
With the iTero dental scanner, our pediatric dentists are able to quickly and accurately take digital dental scans chair-side using a small, handheld intraoral device. Resulting scans include a full mouth scan with the palate and bite, allowing for easy views. The computer scan by a wand-like instrument is an ideal, convenient option, compared to the traditional method of impressions using putty, which can be uncomfortable and often causes patients to gag.
Once a patient's mouth has been scanned, the resulting digital scans can seamlessly be sent to a laboratory to fabricate necessary dental devices. The scans and iTero technology can also be used to make accurate measurements including teeth width, arch width, canine distance and overbite/overjet measurements.
What are the benefits of iTero?
Our iTero digital dental scanner offers numerous benefits, including:
Safe, convenient and hassle-free process from start to finish

Takes accurate, chair-side dental scans within minutes

Eliminates need for taking traditional dental impressions, which can be uncomfortable for pediatric patients

Results in fewer fit issues due to precise digital scans

Can accurately simulate orthodontic outcomes so patients can visualize how their teeth will look following treatment

Shortens the length of office visits

Shortens the turnaround time between scanning, device fabrication and undergoing treatment
Learn More About iTero and Digital Dental Scans in Mansfield
To learn more about iTero, our cutting-edge digital dental scanner, call our office at (925) 682-8566 or request an appointment with Amy Schoening, DDS.